Philadelphia has lab fever. Seemingly every week a new announcement hits the press heralding a biotech company with new equity financing, or a developer dipping their toes into the life science market. Having worked with local biotech and biopharmaceutical companies for more than twenty years, it's hard not to be excited by this explosive growth.
In the era of Covid, where high-rise office towers struggle with partial occupancy, the growth of the life science sector offers a bright spot for central business districts across the nation, and for Philadelphia in particular. Philadelphia is now mentioned in the same conversations as Cambridge, the Research Triangle, and San Diego, due in part to the growth of the cell and gene therapies stemming from research at the University of Pennsylvania.
Nationally, the biotech industry is expected to grow by double digits year over year for the foreseeable future. (Source: McKinsey) For several years the lack of available space has actually impeded the ability of companies to expand. It's no wonder that building owners and industry leaders are jumping into the fray.
So what makes one building better suited for life science use than any other? Therein lies the challenge. There is no one answer or magic recipe, but there are some key factors to consider. Over the past two years, Strada has helped many companies and landlords navigate these waters by undertaking feasibility studies to review the Architectural, Structural, and MEP/FP capabilities of their buildings. Some of these have yielded significant success stories as the following case studies illustrate.
Biomeme
In the early and frantic days of the Covid pandemic, Strada was engaged by Biomeme, Inc. to develop a program to consider locations for their new corporate headquarters and manufacturing facility. Biomeme presented an exciting challenge, but one not unfamiliar to many biotech companies: rapid growth, urgent demand, highly technical lab, and manufacturing requirements, and a desire to create a new home reflective of their brand and culture.
With a 45,000 sq. ft. requirement, many property owners were anxious to showcase their buildings. Biomeme's search for a home spanned dozens of buildings, most ill-equipped to handle their technical requirements, and even fewer able to accommodate the need on a single floor. Biomeme's shortlist for properties included 401 N Broad, the historic Reading Terminal Concourse Building. Largely known as a data center colocation facility, 401 N Broad could not have accommodated Biomeme's needs without a willing landlord. At the same time, we were engaged by Biomeme to provide test fit planning, Strada was also engaged by Netrality, owner of 401 N Broad, to determine the feasibility of converting portions of the 1.3 million sq. ft. building into life science use.
Our study identified several positive key findings:
Sufficient structural live load capacity
Workable clear overhead height and interior column spacing
Ample base building generator capacity, and the ability to extend electrical services within the areas of work
Available shaft space for both fresh air and laboratory exhaust in the form of a decommissioned freight elevator shaft
Our study also identified challenges:
Working with the Philadelphia Historical Commission to locate rooftop exhaust fans so as to not be visible from the public right of way
Locating lab functions away from critical data center functions, on floors below where access below the slab would be prohibited
Providing appropriate lab infrastructure in the form of acid neutralization, make-up air, and exhaust fan capacity
Locating rated control areas to maximize the quantities of hazardous materials typically required for life science tenants
With solutions in hand, a lease was executed, and Biomeme would come to occupy their new home within 14 months. This was an aggressive timeline under any circumstances, but even more impressive in light of the ongoing procurement challenges associated with the Covid pandemic. The results speak for themselves. Earlier this month Biomeme was awarded the Philadelphia Business Journal's 2021 Office Deal of the Year. Their new home is spacious and bright while celebrating the industrial heritage of their new address.

3000 Market Street
In a parallel world about fifteen blocks away in University City, the heart of the "Cellicon Valley," Strada was engaged to study the feasibility of transforming 3000 Market Street, a tired building with a great location, into a new home for life science discovery. Until 2020, 3000 Market Street did not figure prominently in Brandywine's plan to create a thriving innovation district (and in fact had been planned for replacement by a high-rise tower). But, as many in the real estate industry know, sometimes the market tells you what to do. With new high-rise lab-capable buildings several years away, an opportunity was born to create space for life science use in a part of the City where practically none was available. Strada's feasibility study identified a strategy to upgrade the building as a new multi-tenant lab building capable of accommodating growing companies needing space. The transformation included new electrical service and significant structural repairs.
Before the ink could dry, Spark Therapeutics, a true Philadelphia success story, announced they would lease the entire building to house intensive biological research labs. As the Core/Shell architect, Strada sought to restore historic features of the building such as large rounded top windows and terracotta banding using archival imagery from the early 20th century. Simultaneously, windows at the first floor and primary building entrance were enlarged to provide a connection to Drexel Plaza and the William Gray 30th Street Station across the street. New exterior lighting provides a dramatic gateway to University City and became a welcoming home when Spark opened its new facility in 2023. Seeing a historic building slated for demolition become occupied by one of Philadelphia's greatest home-grown success stories is intensely satisfying.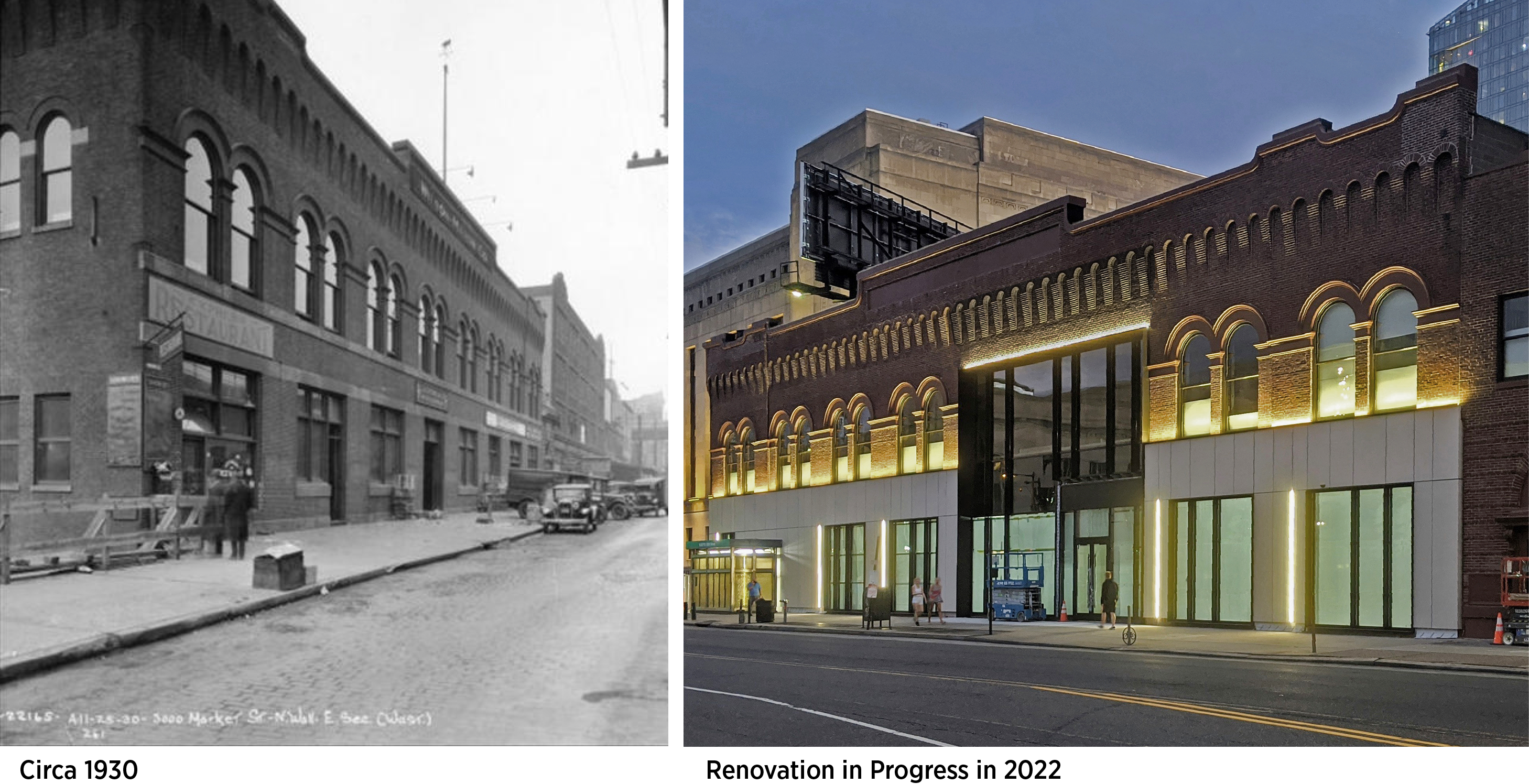 Cira Centre
With the success of 3000 Market assured, Brandywine quickly turned its sights to the famed Cira Centre, an iconic Philadelphia building designed by César Pelli completed in 2005, for their next lab conversion. With 13' floor-to-floor heights and deep steel girders, the Cira Centre was not constructed originally with lab tenancy in mind. Seeing an opportunity to attract a diverse range of biopharmaceutical companies to Schuylkill Yard, Brandywine engaged Strada in an accelerated design process. The result was a creative plan to convert as many as five floors within the Cira Centre into lab use, anchored by a new incubator facility operated by the Pennsylvania Biotechnology Center. Branded as B.Labs, our team's successful conversion mitigated the impact of low ceilings by clustering large ducts into a central service zone while exposing ceilings within the perimeter labs to create a bright and lofty appearance. The new facility is centered by a dramatic three-story stair, ringed by gathering spaces, shared lab services, and flexible labs at a variety of scales.
Perhaps the biggest challenge was to find a way to accommodate laboratory exhaust fans without having to create a 30-story shaft on the top of the roof. An innovative solution was found via the adjacent parking garage, operated by Amtrak, to house a series of large strobic fans. This solution required careful coordination by considering issues of property ownership, air entrainment, sightlines, and negotiation with a federal agency not known for speed (pun intended). Having opened in January 2022, B.Labs at the Cira Centre has set a new standard for flexible lab space within the Philadelphia region.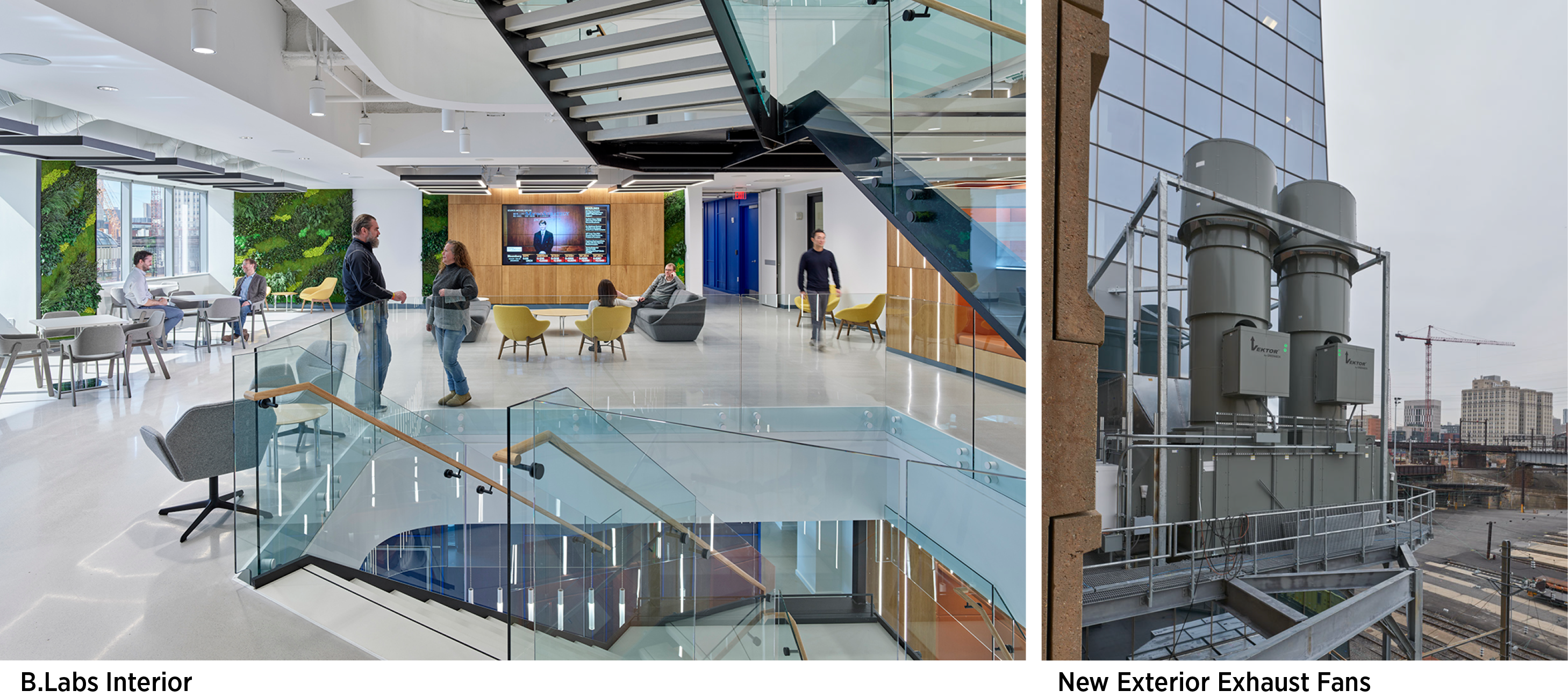 Conclusion
Working with researchers to design their facilities is a highly satisfying process. We've been fortunate to work within many of Philadelphia's most iconic buildings to create spaces to foster the next generation of scientific discovery. In doing so we've unleashed the potential of existing facilities by embracing existing structures and celebrating their defining features. The result is a series of projects that transcend the typical image of a sterile white lab into something far more compelling and pleasant to work in. Perhaps the best testimonial came during a Biomeme interview when the prospective researcher walked into their space and proclaimed, "these are the most beautiful labs I have ever seen." Needless to say, they accepted the offer. For Strada, it is gratifying to know the best projects are yet to come!