I was 7 or 8 when I realized I remembered my home address. I was proud thinking, "man, this grown up thing isn't too bad, bring on more addresses!"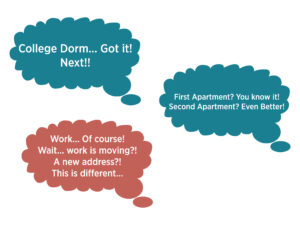 I can honestly say, out of the many addresses I have remembered, I never thought there would be a new work address…
BUT, What would it mean?
The transportation I had known between two addresses would be different, that's for sure. Would the street be louder or quieter… faster or slower? Would we like it? Would I like it?
Change is scary and uncertainty makes most of us, if not everyone, anxious. But, change is necessary for growth.
Camaraderie 2.0
Our office relocation has changed us all… for the better. Work days are, of course, filled with tough and demanding situations. Previously, we sat apart in different pods – too far away to hear interesting conversations or to engage in quick downtime banter. Now, in our new space, we can all take part in riveting design debates or the whimsical (but still very important), chicken cutlets debate.
Our previous window views included a busy traffic intersection and the stone wall of our neighbors. Now we gaze out at the rich sights and sounds of Philadelphia's and America's history.
Friday wind downs were always fun and enjoyable, however since the move an elevated level of closeness has developed around our new pool table.
This comradeship is reinforced by every after work outing, whether it's the exploration of a new bar or restaurant, or lunch on our new rooftop.
Strada's new Philadelphia address has certainly changed us all for the better. We're so much closer and happier in our new place we have created. I've challenged my memory to make room for one more street name!