Strada recently celebrated the opening of Evansdale Crossing, a five-story, 100,000-SF mixed-use social hub that is interspersed with academic spaces on West Virginia University's Evansdale campus. Strategically located at the heart of the building is Reed College of Media's dynamic new Media Innovation Center.
We invited Dana Coester, the Creative Director of the Media Innovation Center, to be our first STREET TALK guest blogger to share her insight on the design process and the flurry of creative exploration the Center has sparked.
"Too often, people think Silicon Valley or urban centers are where it's at. But we know that small, creative communities are ideal beds for original innovation."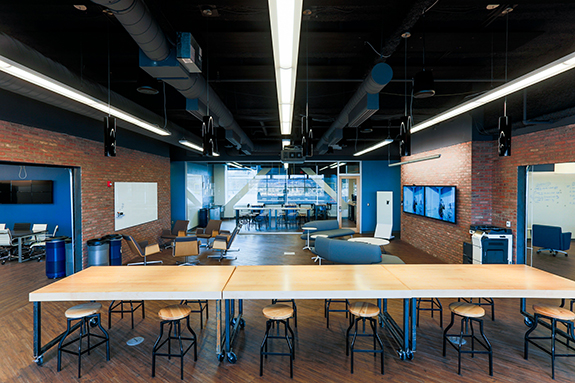 The Media Innovation Center has become a differentiator for WVU in its ability to empower collaboration, conversation and experimentation in technology innovation that problem solves the journey of moving a distressed economy—and a culture—beyond coal. Communities in a state like West Virginia are poised to incubate solutions to global problems. "Our state owns some of the world's most pressing technology challenges—We should own the solutions too," asserts College Dean Maryanne Reed.
Each program area of the 10,000-SF space is precisely crafted to simultaneously support learning, making, and sharing activities. The interior architecture is highly flexible and convertible, allowing the physical space to change to meet the needs of its users, foster their ideas, and support the technologies, products and solutions that they develop.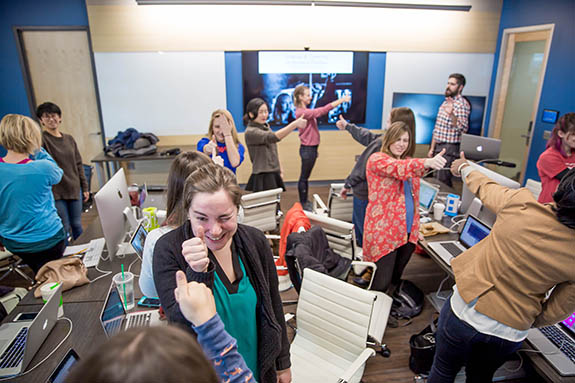 The high-tech, raw-industrial vibe of the Center is articulated through glass, metal, brick, wood, exposed mechanical systems, and state-of-the-art AV technology. It is inviting and comfortable for a wide range of users, from the most tech-savvy software engineer to the less digitally-inclined rural focus group. The Center enables this dynamic, diverse collection of people to brainstorm ways of transforming the future of media, furthering its reach into uncharted territory.
The Center's design has dramatically transformed users' behavior. Faculty, students and industry leaders across disciplines—from journalism, physics, arts to computer science—have discovered new shared passions and created new projects. New collaborations outside of the formal curriculum (and without funding streams) have flourished as grassroots, rallying efforts. Participants outside the College have migrated into the space, transporting traditional classrooms wholesale into the central forum where classes now perform as open salons. Intentionally designed as a collision space, this central arena has achieved heart-and-soul status of the Center.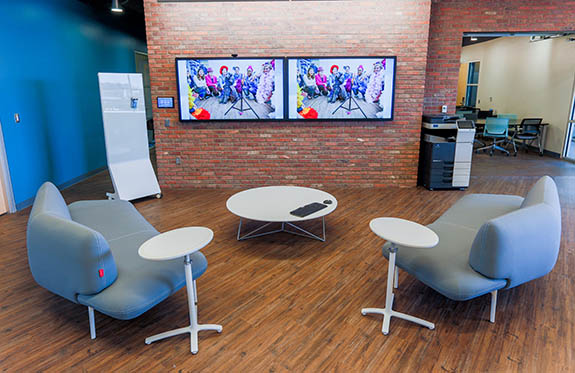 One notable example occurred in the Maker Space where students in a Neuroscience and Media class were working on an experiment with EEG headsets. What started as a small, experimental class with five students, quickly expanded due to the room's transparency. As the two-hour class progressed, others joined the class in session. At one point, a line of people watched from the Forum while 20 participated within. Perhaps most telling of all is this simple measure of user behavior: students and faculty stay hours beyond "formal" class time to continue working in the space they have made their learning, making and creating home.
In less than six months, the space has become home to five workstreams from AR/VR, brain computer interface, and sensor journalism to community branding; launched two new degree programs, hosted 16 classes, 250 hours of events; and saw traffic quadruple to 450 people/week.
Innovation happens anywhere users are encouraged to believe. The Media Innovation Center proposes a new perspective for how—and where—innovation happens.
To experience the energy of the Innovation Center, take a peek at this video produced by the Reed College of Media.
Photos courtesy of the Reed College of Media at West Virginia University
Dana Coester is an associate professor at the WVU Reed College of Media and creative director for the College's Media Innovation Center. Coester's work focuses on community media, technology disruption, and women in technology with special interests in audience building and new economic models for emerging technology. Her research and creative work experiments with new narrative forms in augmented reality and virtual reality, and includes a series of transmedia works that explore the intersection of neuroscience, computer science and documentary storytelling.