For the first time in decades, schools from elementary through higher education are dramatically changing the way they teach. Acknowledging the limitations of the traditional classroom, they are embracing new pedagogical opportunities presented by advanced technologies, and rethinking their academic spaces.
Active learning encourages increased student interaction, deeper engagement with the material, and greater ownership of content, enhancing student achievement. Research also indicates that instructors are exhibiting more enthusiasm and creativity because these spaces allow more flexibility, movement and interactivity with students, which is leading to improved performance.
This post takes a look at two of our recent higher-ed projects. In each instance, our clients sought to create a new type of environment—flexible, collaborative, interdisciplinary—that would facilitate a "messier," hands-on, organic type of learning using real-world problems. And even they have been surprised by the results!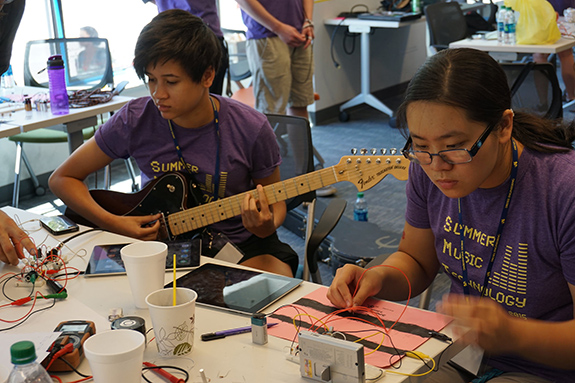 NEXUS LEARNING HUBS | Philadelphia University
Professors at Philadelphia University embraced the opportunity to create "a catalyst for pedagogical training and experimentation" by transforming a series of traditional classrooms into two dynamic learning hubs.
The integration of flexible Steelcase furniture allows quick transitions among different modes of teaching that reorient the relationship between faculty and students, and students to students. Small clusters of collaborative and lounge seating make students feel more comfortable and facilitate small-group, team-based, project-based and even peer-to-peer learning.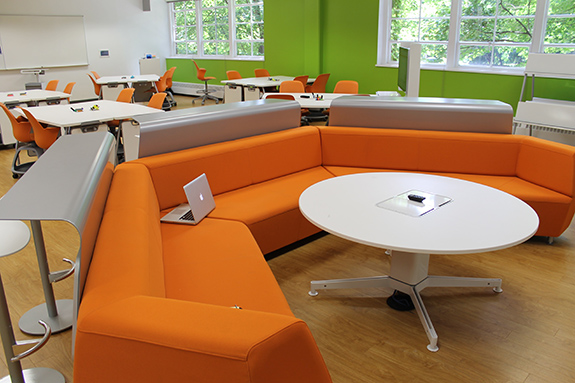 Two Media:Scape monitors allow co-creation of digital material among small groups and a large interactive touch screen can also be used for interactive co-creation as well as display. White boards cover two full walls offering an expansive surface for brainstorming and exploration. Students also have individual white boards or "huddleboards" that are wildly popular for analog creation and communication.

Assessment
Analysis of the new Hubs revealed that students are much more engaged in the "learning and doing" of courses. The ability to move freely throughout the classroom makes students more attentive and invested for the entire class. One faculty member stated "this room is truly the laboratory to foster and facilitate that sense of pedagogical exploration."  Students also raved about how bright and energetic the spaces feel.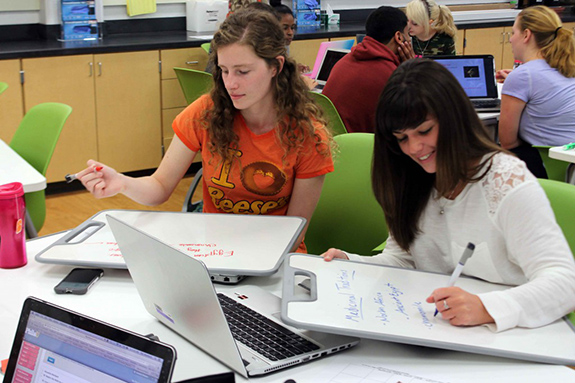 "I absolutely love the layout of this classroom. I feel much more comfortable here than I do in standard classrooms. The bright layout also helps me stay focused…" "My ability to pay attention is significantly better, and it provides a 'less stressful, and more engaging class period." – PhilaU Student
THE EXCITE CENTER | Drexel University
Established in 2013 as a University-wide strategic initiative, the Expressive and Creative Interaction Technologies (ExCITe) Center is spearheading research and re-inventing education that blurs the lines between science, technology, engineering, art, mathematics, creative expression, and entrepreneurship.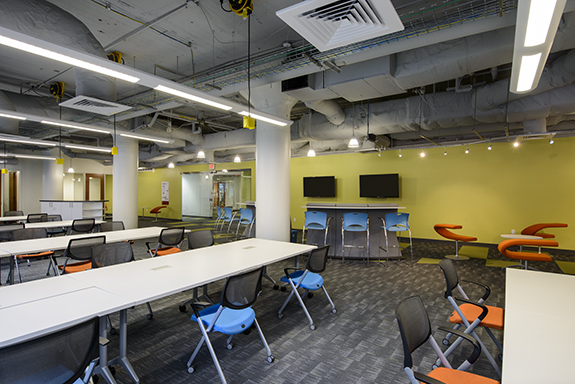 The design of the new Center entailed gutting the first floor of a former industrial paper warehouse to maximize flexibility and foster "constructive disruptions." The Center houses sound stations, computer stations, meeting spaces, and the Shima Seiki Haute Technology Lab, which features Shima Seiki whole-garment knitting machines. Moveable furniture and a slew of electrical outlets make the space infinitely reconfigurable. Punching huge windows into the façade along Market Street created an inviting, inspiring and highly visible glimpse of the Center's experimentation with smart fabric wearables, video game design, music and entertainment, and humanoid robotics.

Assessment
Now in its third year, ExCITe is a nexus of activity, information sharing and knowledge building. To date it has hosted more than 3,300 meetings and events, including the International Space Apps Challenge, Global Main Stage (2013); National Day of Civic Hacking (6.2014); and 50 Years of the National Endowment for the Arts—What's Next for Creativity & Innovation (11.2015).
Photos courtesy of: Jeff Ashley, Director of Philadelphia University's Center for Teaching Innovation for the Nexus Learning Hubs; The ExCITe Center
A practicing principal for over 31 years, Bob "Mac" McCauley, AIA, specializes in architectural and planning projects for colleges, universities and institutional real estate clients. He directed the design of the Nexus Learning Hubs and the ExCITe Center, which will be the subject of his presentation at the upcoming Active Learning Space Symposium on August 12, 2016 at Philadelphia University.