This summer, Strada welcomed two architecture interns—Rovina George, a student in the Carnegie Mellon University Masters program, and Rye Ahronson, a Senior at Marywood University. Eager to delve into the world of architecture and embrace Strada's unique culture, they spent their internship gaining valuable experiences. As their time with us came to a close and they prepared to return to their respective universities, we took the opportunity to sit down with them for a final conversation, reflecting on their enriching experiences and gathering insights into their time at Strada. 
Why are you studying to become an architect? 
RG: Ever since I was a child, I wanted to be an architect. I was gifted a set of building blocks that said "architect kit" on the box, and that word stuck with me. The set came with designs, but I could only do the same design a few times over before I started coming up with my own. 
As I further explored architecture, I found myself looking at the world differently. The best designs look at different needs and cultures and celebrate how these differences become relationships. Thinking in this way led to a great passion for the impact we have on this planet. We take materials from the earth, but where does it land? I'm passionate about that cycle and was so glad to work with the SWell team to understand the conscious efforts that lead to environmental change.  
RA: I've always looked at myself as a perfectionist, and the precision of architecture stood out to me. I'm also very into thrift shopping, and the idea of reuse. As I started to investigate why buildings are torn down rather than reused, architecture had the answers.  
How would you describe your experience? 
RG: It was a very comprehensive experience. I had the opportunity to see Construction Management, participate in design development, work on construction documents, and every project phase. Opportunities to learn were constant, not only in project work but also lunch and learns, Strada internal events, and site tours. I earned my bachelor's degree in India, so seeing the architecture of the United States up close was eye-opening. The design languages are the same. We all want to make good spaces for people to enjoy. It's the materials and methods that differ. For example, in India, building design doesn't typically include insulation due to the climate. Overall, I can't believe how much learning was packed into the short summer.
Strada has an accommodating nature that I really like. The intentional creation of varied workspaces with different desks, sights, and sound levels allows you to find your own workflow. This translates into better design decisions due to an innate understanding of what different people need from their spaces.
RA: It was my first time working any type of job, and it exceeded my expectations. It was daunting to step into work life and see how I would fare, but life at Strada was seamless. The way in which people interact with one another didn't feel like I was starting a new job in a new place. There was comfort, familiarity, and welcome. I knew going in that some internships become workhorse scenarios, but Strada was nothing of the sort. I was accepted for who I am at the level of education I have and encouraged in every moment to learn.  
What are the greatest lessons and skills you learned this summer?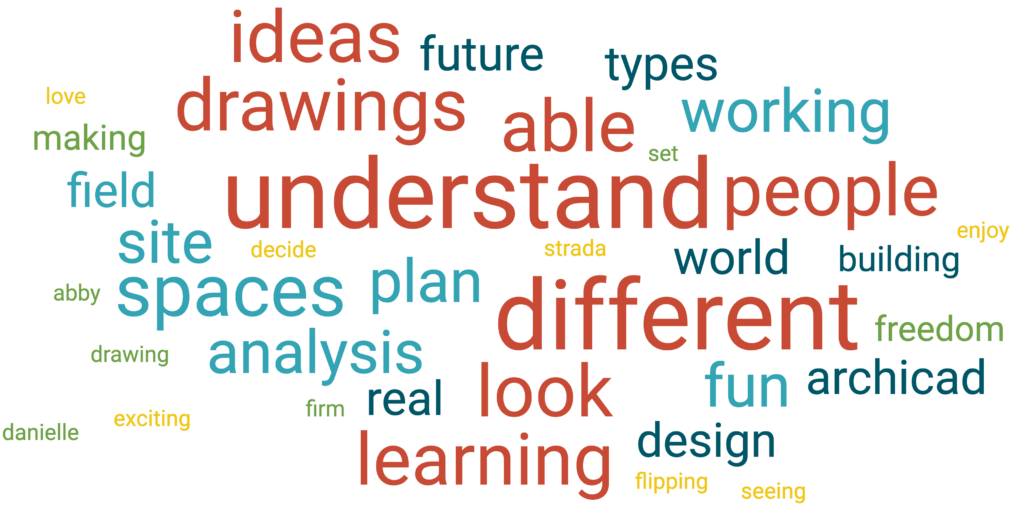 RG: I was on site at the Fairfax Apartments & Rehabilitation  for the punch list. Danielle Mihna's interactions with the contractor and their team showed me the importance of relationships across disciplines. Her rapport with the contracting team kept construction flowing while quickly and accurately managing any issues that emerged on site.   
As far as skills are concerned, I had used ArchiCAD before, but working on drawings is different within a firm. I worked with the SWell team to create sustainable wall section design templates. Taking time to create a guidebook for future work was something I had done before.  
RA: Learning from my mistakes! It was okay to try and okay to fail. Future interns, take note: You don't have to get it right, just get better each time. There were so many times I didn't get things right the first time, or there was a difference in expectations, and I was encouraged to learn, own up to the mistakes, and continue progressing.  
I'd seen drawings before but had not connected drawings to site before. I really enjoyed measuring out real-world spaces, comparing those to architectural plans, and understanding how to adjust plans to move forward.  
What were the most rewarding moments?  
RG: Witnessing equitable relationships. I had the opportunity to work with Dina Snider, Dawn Peterson, and Acadia Klain on a Commonwealth Charter Academy project. Even though we are all at different stages in our roles and careers, discussion happened without hesitation. It's rewarding when you're an intern and someone uses your ideas! I'm used to traditional office hierarchy, but Strada feels like a level playing field where ideas are viewed equally.   
RA: Working with Abby Mountain  on the Bakery Square 3- Spec Office Space ! She warned me that my role on the project would not be exciting, but I would argue that it was the most exciting. She taught me how to flip a floor plan and harness the freedom of being the one to decide where walls should go. School is all about concept, but I got to see the real-world impact of my work.  
What is the next step in your career path?  
RG: I'm headed back to Carnegie Mellon University to finish my Masters in Architecture. My dream job would be designing a theme park similar to Tivoli Gardens in the Netherlands. I love that, young or old, you can be taken to a new place altogether, and that you can make imagination a reality. 
RA: I'll be graduating with my bachelor's degree, and then I'd like to work full-time during the long process of obtaining my architecture license. Work is where differences are made, and I want to be a part of that. Beyond that, I just want to keep learning. You can never learn too much.  
Shortly following his internship, Rye was nominated as one of seven recipients of the 2023 AIA Pennsylvania Architectural Excellence Student Award, which is awarded annually to graduating students with exceptional scholastic achievement and future promise. Congratulations, Rye!