You may have criss-crossed your campus hundreds of times, but it often takes a Placemapping® exercise to see a campus with fresh eyes and discover new opportunities.
When asked to develop a master plan for West Virginia University's Evansdale campus, it quickly became apparent that the hilly suburban–style site lacked sufficient pedestrian pathways and distinctive places to give it a sense of identity. These became two of the main drivers of the resulting plan.
The effort also revealed the critical need for a vertical link to the campus' PRT transportation system, an elevated automated people mover connecting WVU's Evansdale campus with the original downtown Morgantown campus.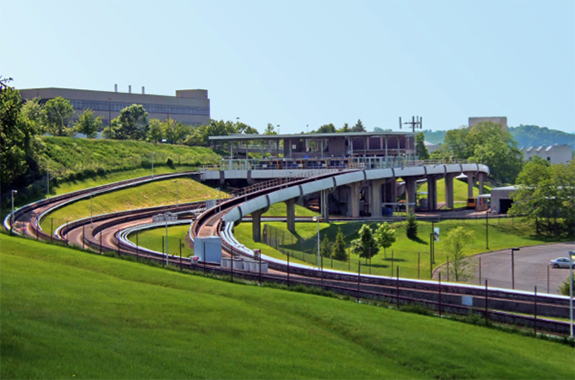 What wasn't so apparent was the need for a physical hub—a "there" there—that would bring students, faculty, and the larger community together. This realization became the guiding principle for this project. Strada proposed an innovative "connector" building to establish horizontal and vertical connections in the heart of the campus at the crucial intersection of several academic and recreational districts.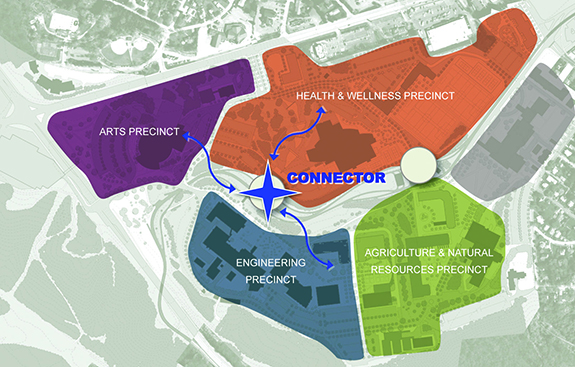 When Strada later teamed with the private developer Fresh Hospitality in 2012, "Evansdale Crossing" quickly morphed from a simple stair and elevator tower navigating the challenging topography into a five-story, 100,000-SF mixed-use social hub. This combination reflects a growing trend for many of the innovation districts Strada has helped develop, where places for both high-tech experimentation and conventional study are mixed with social areas for dining and leisure.
The resulting development will not only support traditional academic functions, including a one-stop student service center, but will also incorporate a cutting-edge Media Innovation Center for WVU's Reed College of Media. Students, faculty, and the local community will enjoy several craft restaurants coupled with interior and exterior social gathering spaces. The Octane Lounge, Juice Bar and rooftop lounge on the fifth floor will form the backdrop of an energized "living room" with stunning views of the surrounding campus and mountains beyond.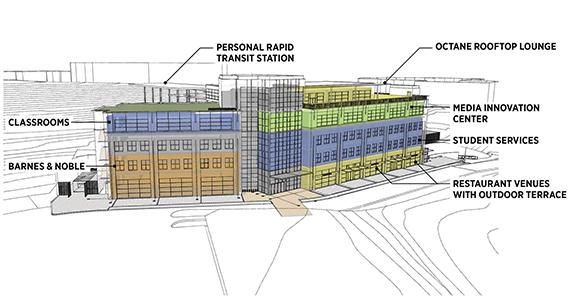 As construction continues to progress, the building is coming into its own as a major new face of the Evansdale Campus. Once barely a blip on the campus master plan, Evansdale Crossing is already generating a new nexus on campus that will foster informal exchanges, meaningful discoveries and undoubtedly, lifelong connections.