Today, Friday, December 30, 2022, John A. Martine AIA will retire from his full-time role as partner and architect at Strada after a long and successful career. One of four founding partners, John helped shape Strada into what it is today.
John began his professional career in 1966 after discharge from a three-year volunteer assignment with the US Army, most of which was spent in Germany. It wasn't until he established his office in the South Side neighborhood of Pittsburgh that he was able to combine his love of history and architecture.
With the publication of "Storefront and Streetfront: A Planning and Program Guide for East Carson Street," in 1978, John worked with others to place East Carson Street on the National Register of Historic Places. In the intervening years, John established a reputation for award-winning adaptive reuse and historic restoration projects.
John is well known for his restoration work and designs on the South Side, Shadyside, Lawrenceville, and the North Side. He is an often-recognized designer who is known for his sympathetic approach to new buildings in a historic context.
John has served on many community and professional boards and participated in more than 100 seminars and conferences on historic preservation, neighborhood conservation, adaptive reuse, and 19th-century style.
______________________
We sat down with John to talk about his career, his achievements, and his plans for retirement.
WHAT INSPIRED YOU TO BECOME AN ARCHITECT?
The truth is, when I was young, I really wanted to pursue a career in art. I had been attending special classes at the Carnegie Museum every Saturday, which was a scholarship situation that was unique in Pittsburgh. I attended for eight years, from grade school through high school. At that point, we were living with my family. It was a multi-generational home where my parents and two sisters lived in an apartment above my mother's parents. This was probably the happiest part of my life.
My grandfather, my mother's father, was an immigrant from Italy and became a contractor (a small, contract home builder). That kind of interested me and I thought, well, maybe being an artist is not very practical. Of course, this was before everyone heard about Andy Warhol and his Pittsburgh connection. And by the way, Warhol went to those special classes as well at the Carnegie Museum. So, I thought maybe I can combine art with practicality. Architecture was a field that would allow me to find a job. Coming from a blue-collar household, my father was a steel worker, and my mother was a waitress, I couldn't have them spending good money, and after four or five years find myself wondering what do I do now. Architecture was more practical, and, in the end, I was able to combine art and practicality.
HAVE YOU EVER THOUGHT ABOUT TEACHING?
I taught an evening class, History of American Architecture, for graduate students at Duquesne University. I think some of them took that class because they had to take a humanities class, so there were no architects in the class. Duquesne doesn't have an architecture program; it was in the Fine Arts department. That was the only time I taught a college class. Even though it wasn't related to drawing or sketching, it was history, which is another interest that I have. I was able to combine all my interests into one thing.
"John has been a great role model along my journey as an architect. His attention to detail, eye for color, and devotion to hand drawing and sketching are all things that I admire and aspire to. He has a calm, reassuring presence that helps to ground any situation, but he also has a fiery passion for all things design!" – Abby Mountain AIA, AICP, LEED AP
WHAT PROMPTED THE BUSINESS VENTURE WITH AL, MIKE, AND ED?
We were all on the Board of AIA Pittsburgh at the same time, each representing three different firms. I was representing my own firm, Integrated Architectural Services (IAS) where I had one partner, Al was representing his own firm, and Ed was representing Johnson Schmidt Architects. He wasn't an owner but was a senior person in that firm, as I remember. After the monthly AIA Board Meetings, some of us would go out for a few drinks and commiserate on the state of the architecture business, etc. It was Ed's idea to start a new firm with the three of us and also to include Michael Stern, ASLA. Al and I did not know Michael at that time. He envisioned the combination of our talents to be a winning formula.
My firm, IAS, was winning lots of AIA Design Awards, both local and statewide at the time. Ed wanted to take advantage of that plus tie in with Al's existing firm and expertise and bring in landscape architecture with Michael. Ed's contribution was business acumen and good organization. While my firm was well known for design, we were not moving forward as fast as I would have liked, so after some soul-searching, I thought this might be a good move. My business partner at the time was not as enthusiastic and, in the end, decided that he did not want to merge our firm into this new organization. So, I took the plunge and the rest is history as they say!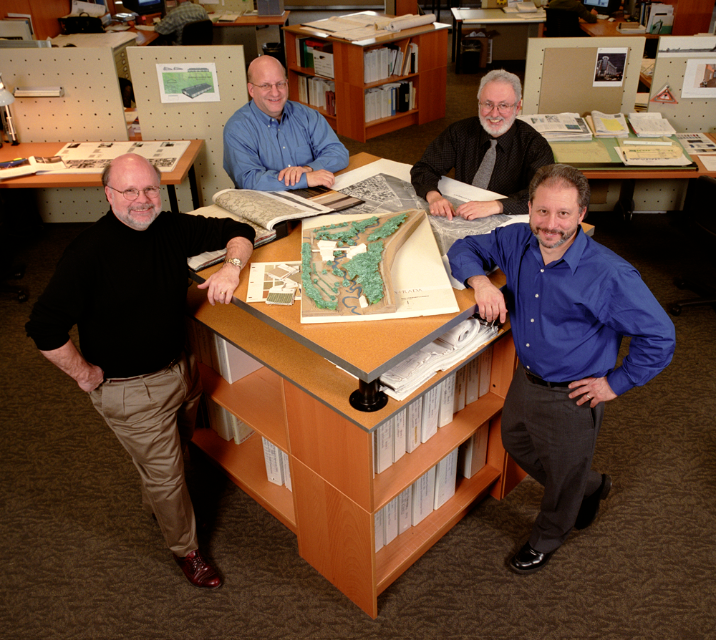 HOW DID YOU ALL CHOOSE THE NAME, STRADA?
It took several months, as I remember, to come up with the name. We did not want to use our individual names realizing that as we grew there might be new partners. We also wanted to keep it simple. We thought of ourselves as an "urban" design firm… concentrating on urban issues, etc. After exploring hundreds of possible names, "Strada" seemed perfect. Strada is street in Italian… where buildings meet the public. The name paid homage to Al, myself, and also Michael whose mother was born in Venice, Italy.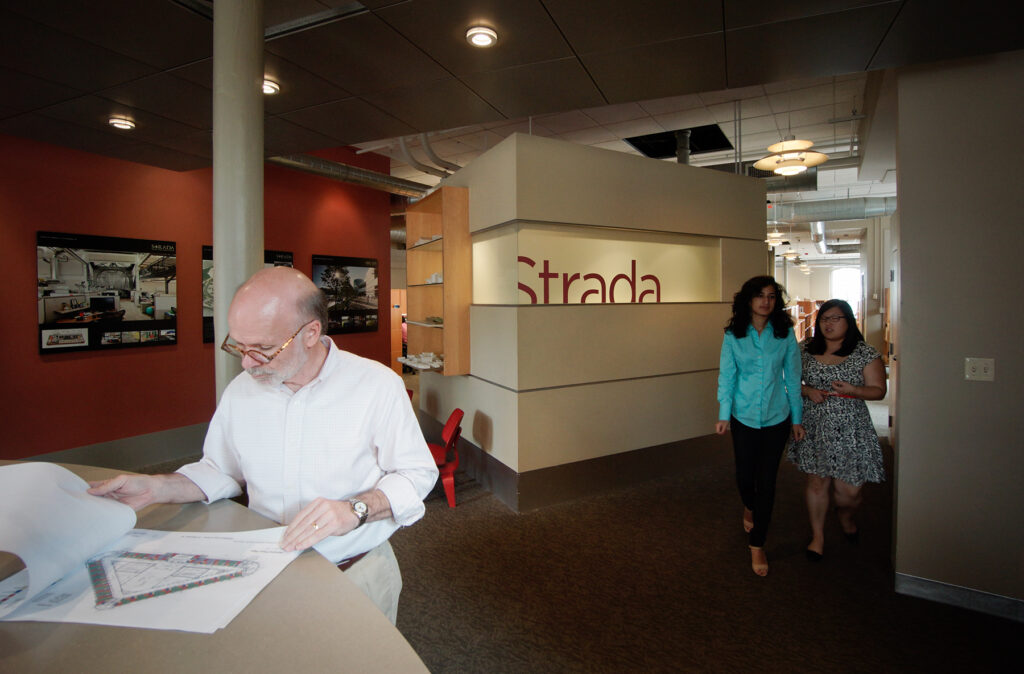 WHAT ARE SOME OF YOUR GREATEST SUCCESSES?
I'll go back to the art thing. After I got out of the army, I moved to Los Angeles, Hollywood specifically, and I got laid off from my first job because they ran out of work. And that's funny because as an architect I thought you could always get a job. But anyway, I took the time to go back to art and I ended up having a one-man art show in Los Angeles. That was a big success for me at the time.
As far as architecture, there are so many projects that I've done. One highlight, pre-Strada was winning a silver medal for a project on the South side (I believe it was 2009 E. Carson St) from AIA Pittsburgh. Silver was the highest medal that AIA Pittsburgh awarded. That was a great success. The Mifflin Elementary school renovation was another great success. There are so many, but I would put those two at the top.
DESCRIBE THE CHARACTERISTICS OF THE LEADERS WITH WHOM YOU MOST ENJOYED WORKING.
Leaders who can think outside of the box have always been enjoyable to work with. Also, a leader's ability to know what my strengths are and make sure that they were utilized. Someone who's organized in the planning and scheduling of a project so that there are clear goals and deadlines; having a well-organized leader is very important.
WHAT ARE YOUR GREATEST PERSONAL AND/OR PROFESSIONAL STRENGTHS?
I think I'm a sympathetic listener to both clients and team members. And, I'd say my greatest personal and professional strength is design. Not just architectural design, it could be interiors, it could be any kind of design including posters and artwork. So, I would just say design, design, design.
"I admire John for so many reasons, not the least of which is his commitment to design and the decorative arts. This has manifested itself through his contributions to innumerable Strada projects, but also his role with organizations such as Preservation PA, Pennsylvania Architect's Licensure Board, and the Victorian Society of America. John is a tireless advocate for design. Strada, Pittsburgh, and our profession are better because of it." – George Poulin AIA, LEED AP
WHAT ARE THE MOST SIGNIFICANT CHANGES IN WORK CULTURE SINCE YOU BEGAN YOUR CAREER?
Casualness in the workplace. There's a big difference from when I started working. When I worked for other people, and even in my own office before Strada, I used to go to work in a shirt, tie, and jacket every day. In the last office where I worked in Los Angeles, you couldn't bring coffee to your desk. You had a mid-morning coffee break, lunch, and a mid-afternoon coffee break. They didn't want your coffee cup on your desk for fear of spilling it on your drawings. It was much more structured. There wasn't that free-flowing banter that you will find in our studio. I'm not against that, it's just a sign of the way things have changed.
The office environment was more regimented back then. In fact, in that same LA office, there was a chief architect (not the owner) who sat facing the drafting room like a teacher would be in a classroom. It was interesting because the guy was actually from Squirrel Hill (PA). Anyway, I think he felt uncomfortable in that kind of position. It was like he was like looking over us which would have probably made me feel very uncomfortable. We don't have that today, and I'm glad that's gone away.
ARE THERE CHANGES IN WORK CULTURE THAT YOU WISH HAD REMAINED?
Well, I think sometimes when you dress up you end up feeling a bit more professional. It's very easy to fall into a relaxed, casual mode of dress. There are extents of casual, but I think sometimes people go a little overboard in the casual direction, you know, where it looks a little sloppy like you just crawled out of bed, which is especially bad if you're making a presentation before a client. I think a lot of younger people don't think about that. I'd like to see us return to a better dress code.
WHAT HAS CHANGED WITHIN THE INDUSTRY SINCE YOU BEGAN YOUR CAREER?
The biggest change is the shift from hand drafting to computer aided design (CAD). I started with the one (hand drafting) and still haven't done any computer aided drafting or design. I know some people my age may have been able to make that transition. That was not something I wanted to do because I felt I could do things faster by drawing. So that's a significant change.
Technology has changed a lot, even with communication. When faxes came out, that was such a big thing, you know, and then you go from faxes to e-mail. And most recently, the pandemic has affected the office in a major way. So, I would say technology is the biggest difference. The sad part is architects and interior designers have gotten away from the mind-to-hand-to-paper thing which is completely different than punching the keyboard. As good as technology is, I think there's still something lacking by not being proficient and being able to do hand drawings.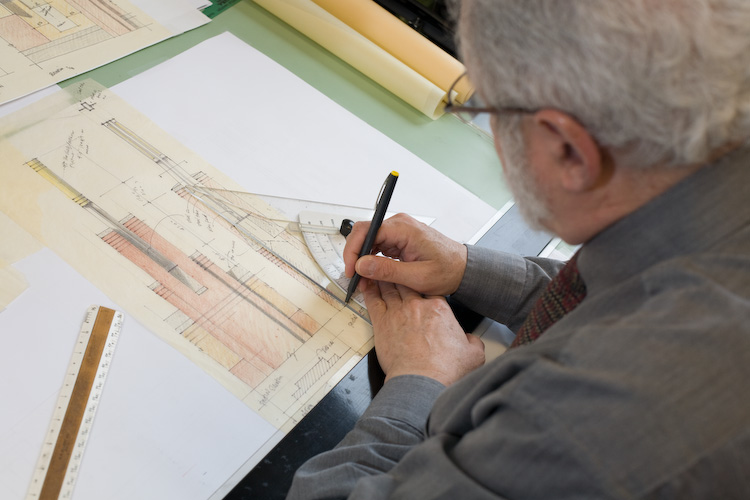 "John has an eye for the beauty in architecture and has been passionate about sharing it with others, including, but not limited to the detailing of projects. It has been a pleasure to be a partner with John. He gives his all, whether it is planning a party, detailing a building, or working with a client or team member." – Dina F. Snider AIA, LEED AP BD+C
WHAT WERE THE GREATEST CHALLENGES YOU FACED IN YOUR CAREER? HOW DID THEY HELP YOU GROW AS AN ARCHITECT AND INDIVIDUAL?
Well, when I first hung up my shingle in 1973, as a private practitioner, I really didn't know very much about how to run a business. I had worked for other firms and knew how other people ran their Practice, but I was ill-prepared. I had some savings, but without any income, things went very quickly. Let's just say I learned some lessons the hard way.
One of the things that I learned once I set up an office on the South Side was the value of networking. Since I didn't have any real work, I ended up becoming the neighborhood's biggest volunteer. I was the only architect on the South Side at that point. I served on the board of three of the major organizations in the South Side, including the Chamber of Commerce, which was a very big deal at that time because they had representatives from the steel industry and there were probably a couple of hundred members. I ended up being one of the officers. I also joined the Southside Community Council which was the only community group at that time and became an officer. And the third organization was the Brashear Association, which was a social services/outreach nonprofit organization.
I did a lot of volunteering, and it ended up being very valuable in the end. A great example is through my volunteer work I met Tom Murphy, who ended up being Mayor of Pittsburgh. When I met him, he was an activist on the North Side. We always joked about being, you know, in competition, the two neighborhoods being in competition. It's important to be friendly and open and not burn any bridges behind you. If you have a bad attitude, people will learn about it and they'll say, "Oh no, don't work with that architect, he or she is…" You could have had one bad day and they ruin your reputation. You have to maintain a nice, steady presence.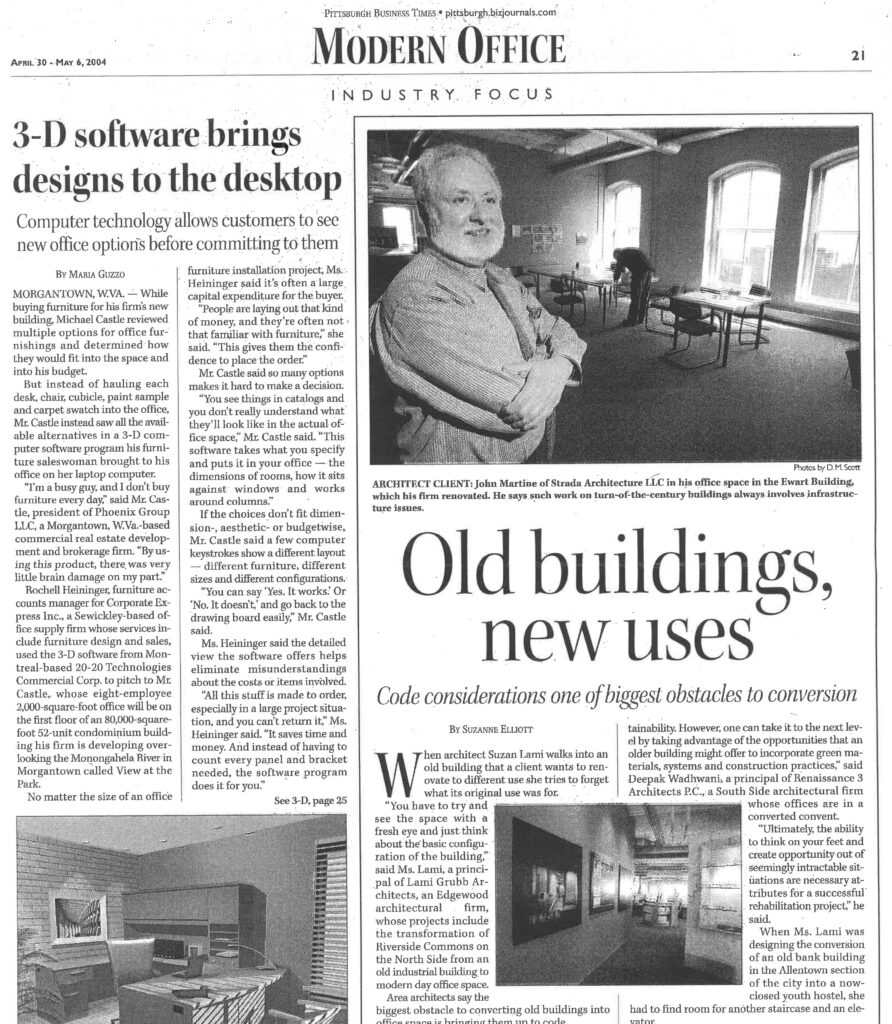 IF YOU COULD DO ANOTHER JOB FOR JUST ONE DAY, WHAT WOULD IT BE?
Maybe going to a top-rate restaurant and being behind the scenes and seeing how they do things. That would be fun, I think. Hard work, but it would be fun for one day.
IN JANUARY, YOU WILL BEGIN OFFERING YOUR SERVICES ON A CONSULTING BASIS. WHAT DO YOU LOOK FORWARD TO DOING MORE / LESS OF?
I look forward to doing more hands-on design work. I will not miss the administrative work and meetings (other than client meetings). Meetings related to the work are fine as long as it's not Partner-related issues that keep you from doing more of the work you're passionate about.
HOW WILL YOU SPEND YOUR FREE TIME DURING RETIREMENT?
Well, I have my house to finish which has been a 30-year project. I still have a couple of rooms left to finish and yard work, you know. I'll devote time to travel, sketching, and artwork. I'll lean into my original goal… artwork.
Would you ever consider doing a pop-up gallery with your artwork?
Maybe eventually. Yeah, that would be fun.
We are grateful for John's leadership and influence at Strada. He will always be a part of the Strada family, in fact, John will continue as a part-time design consultant post-retirement. Please join us in congratulating him on his accomplishments and upcoming retirement. He has made many friends within our industry and has created countless extraordinary places for people to enjoy for decades to come. We are sure that he will appreciate the opportunity to have each of you celebrate this new season ahead with him.